Mechanism deeply saddened by passing of President Magufuli
Mechanism
News
Arusha, The Hague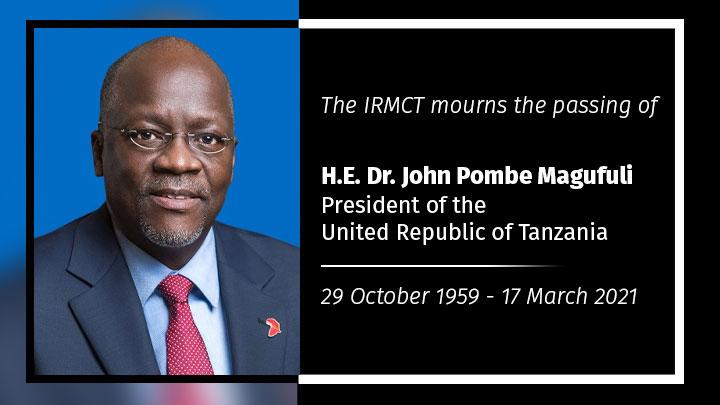 The International Residual Mechanism for Criminal Tribunals (Mechanism) is deeply saddened by the passing of H.E. Dr. John Pombe Magufuli, President of the United Republic of Tanzania (Tanzania), on Wednesday, 17 March 2021. It joins the international community in conveying its heartfelt sympathy to the family of President Magufuli, the Vice-President of Tanzania, H.E Samia Suluhu Hassan, and the Government and people of Tanzania.
President Magufuli had a distinguished career on the Tanzanian political stage. First elected as a Member of the Parliament in 1995, he served in the Tanzanian government in various capacities, including as Deputy Minister of Works from 1995 to 2000, Minister of Works from 2000 to 2005, Minister of Lands and Human Settlement from 2006 to 2008, Minister of Livestock and Fisheries from 2008 to 2010, and again as Minister of Works from 2010 to 2015. He was elected as the fifth President of Tanzania in 2015 and commenced serving a second five-year term inOctober 2020. During his presidency, President Magufuli also served as the Chairman of the Southern African Development Community between 2019 and 2020.
Throughout President Magufuli's tenure, the Mechanism continued to receive significant support from Tanzania, including with regard to the construction of the Mechanism premises in Arusha. The Mechanism looks forward to its ongoing cooperation with the Government of Tanzania in the furtherance of its mandate.
As the United Republic of Tanzania will be mourning for 14 days, the United Nations flag will be flown at half-mast at the Mechanism's Arusha branch premises for the entire duration of the mourning period.