Publication Mechanism's 2020 Essay Volume launched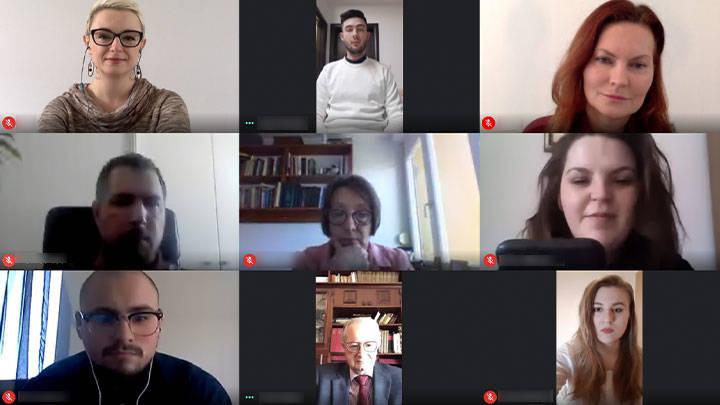 Today the Mechanism Information Programme for Affected Communities (MIP) was pleased to launch the Mechanism's 2020 Essay Volume. This publication compiles the winning essays of law students who participated in an essay writing competition as part of the first cycle of the Mechanism's Inter-University Video Lectures Programme, entitled 'International Law and Facts Established before the International Criminal Tribunal for the former Yugoslavia' (ICTY).
The essays in the Mechanism's 2020 Essay Volume were inspired by the lecture series and explore various aspects of the legacy of the ICTY.
Judge Carmel Agius, President of the International Residual Mechanism for Criminal Tribunals (Mechanism), opened the online event by welcoming the students and professors from the participating law faculties. President Agius congratulated the winning law students, stressing how gratifying it is that young people from the region of the former Yugoslavia are actively discussing and engaging with the ICTY's important legacy. In this regard, he noted the valuable role played by the Inter-University Video Lecture Programme in enabling students from across the region to connect with each other and learn together.
Following President Agius' remarks, the seven winning students presented their essays to approximately 50 students and professors who attended the event.
In addition to having their essays published in the Mechanism's 2020 Essay Volume, the winners will each spend one month at the Mechanism's Hague branch on a fellowship programme.
This year's winners are:
Hanan-Lamia Skopljak (University of Sarajevo);
Emir Demirovikj (University of Skopje);
Mia Georgievska (University of Skopje);
Nikša Vojvoda (University of Zagreb);
Egzona Bexheti (University of Priština);
Besnik Beqaj (University of Priština); and
Lazar Petrović (University of Niš).
The Mechanism's 2020 Essay Volume will be distributed to law faculties throughout the former Yugoslavia. An electronic version is available here.
The Inter-University Video Lecture Programme is implemented by the MIP. More than 250 postgraduate law students have taken part in two cycles of the Programme so far, including students from the University of Niš, the University of Podgorica, the University of Priština, the University of Sarajevo, the Ss. Cyril and Methodius University of Skoplje, the University of Zagreb, the University of Vitez, and the University of Donja Gorica.
The MIP was launched in January 2019 with the aim of contributing to increased awareness and knowledge among affected communities about the 1990s conflicts in the former Yugoslavia, based on the ICTY and Mechanism cases. The MIP is generously supported by the European Union and the Swiss Federal Department of Foreign Affairs.