President Agius briefs UN Security Council on progress of Mechanism's work
President
Press release
Arusha, The Hague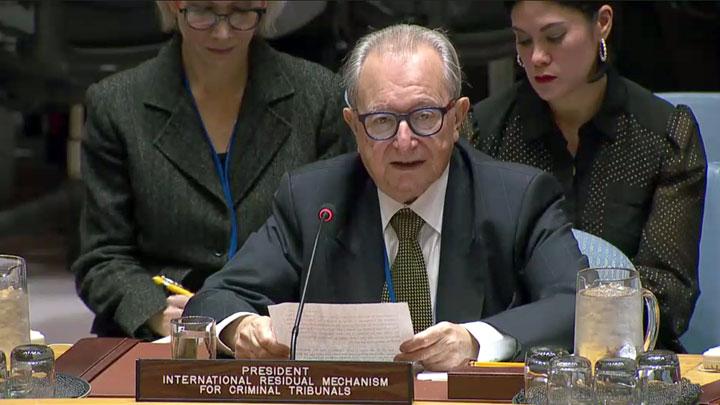 The President of the International Residual Mechanism for Criminal Tribunals (Mechanism), Judge Carmel Agius, today presented the Mechanism's fifteenth progress report to the United Nations Security Council (Council), outlining its judicial work and other key activities during the past six months.
With regard to the Mechanism's remaining judicial caseload, President Agius first informed the Council of notable developments at the Arusha branch, including the conclusion of review proceedings and the delivery, months ahead of schedule, of the review judgement in the Ngirabatware case. He then noted that a new indictment against Augustin Ngirabatware, for contempt and incitement to commit contempt, was confirmed in October 2019 and that this case has been joined to the existing contempt case against Maximilien Turinabo and others. The joint contempt trial is expected to commence in the first half of 2020 and conclude by the end of the year. Turning to judicial activity in The Hague, the President reported that judgements in the Stanišić and Simatović retrial and the Mladić appeal remain on track to be delivered by the end of 2020.
Having outlined the progress made in the reporting period, President Agius set out a number of milestones within the Mechanism's grasp. First, he stressed that 2020 will be a crucial year for the Mechanism as it will complete most of its existing judicial workload thereby allowing it to focus primarily on continuous residual functions, in accordance with the Council's vision of the Mechanism as a "small, temporary and efficient structure".
Second, President Agius stated, the Mechanism looks forward to engaging with the Security Council in respect of its 2020 review of the Mechanism's progress in accordance with resolution 1966 (2010), and likewise with the Office of Internal Oversight Services on its next evaluation. He emphasised the seriousness with which the Mechanism takes such accountability processes and that the Mechanism is ready for frank discussions.
Third, President Agius emphasised the need for the continued and increased cooperation of Member States in relation to several key aspects of the Mechanism's residual functions. In this respect, the President highlighted the Mechanism's reliance on Member States in the enforcement of sentences as well as the arrest of the eight remaining ICTR fugitives. In particular, the President called upon South Africa to honour its international obligations by arresting the fugitive located on its territory in 2018. He also called upon Member States to assist in finding a permanent solution for the relocation of the nine ICTR acquitted and released persons currently remaining in a safe house in Tanzania.
Fourth, President Agius indicated that the Mechanism looks forward to the continued support and assistance of the Security Council and broader United Nations membership, particularly in respect of the Mechanism's budgetary requirements.
In closing, President Agius expressed confidence in the support of the international community, conveying his trust "that the prevailing scepticism regarding international criminal justice will be set aside so that the mandate of the Mechanism, as determined by this very Council, can continue to be fulfilled."