President Agius meets with United Nations Secretary-General António Guterres
President
Press release
Arusha, The Hague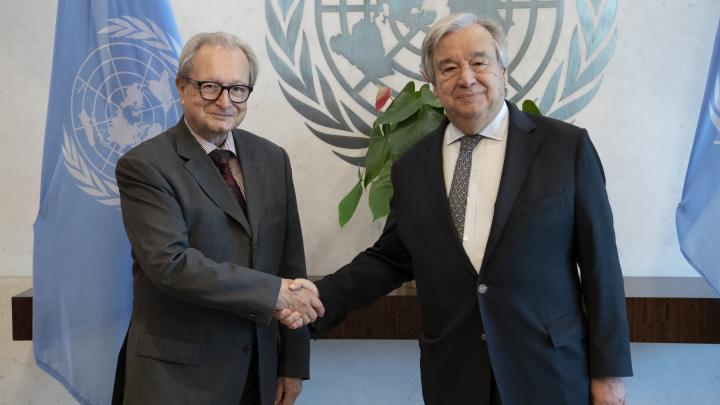 The President of the International Residual Mechanism for Criminal Tribunals (Mechanism), Judge Carmel Agius, met yesterday with Secretary-General António Guterres at United Nations Headquarters in New York.  It was their first meeting since President Agius assumed office in January 2019.
At the outset, the Secretary-General welcomed President Agius, expressing deep appreciation for his work and commending him for the priorities set for his Presidency, in particular his focus on gender parity and the elimination of workplace harassment. The Secretary-General pledged his ongoing support for the Mechanism's mandate, noting the especially heavy workload faced by the Mechanism as a residual institution.
President Agius in turn thanked the Secretary-General for the trust placed in his leadership of the Mechanism, and expressed gratitude for the Secretary-General's strong commitment to the fight against impunity.
President Agius briefed the Secretary-General on the Mechanism's judicial work and the anticipated completion dates for the existing cases. In the context of discussing the United Nation's present financial situation, President Agius outlined the steps he has taken to make the Mechanism's operations leaner and more efficient, including through enhanced inter-branch coordination and the streamlining of practices.
Finally, President Agius highlighted the importance of Member States' ongoing cooperation, in particular regarding the remaining eight fugitives indicted by the International Criminal Tribunal for Rwanda, and of maintaining a close working relationship between the Mechanism and both Rwanda and the States of the former Yugoslavia.
President Agius is in New York to present the Mechanism's seventh Annual Report to the General Assembly on Wednesday, 23 October 2019.