President Agius meets with President of the United Nations General Assembly
President
Press release
Arusha, The Hague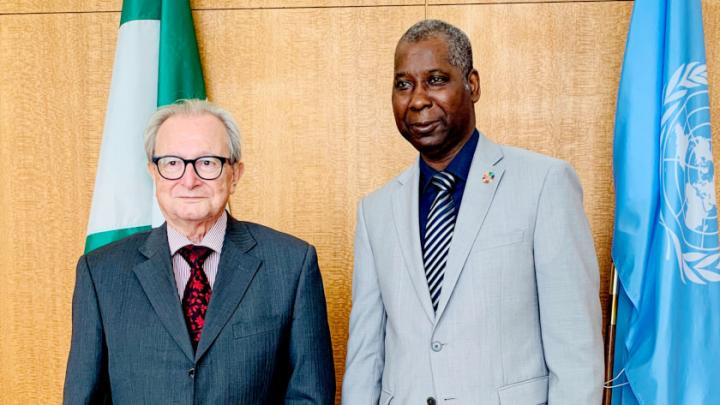 The President of the International Residual Mechanism for Criminal Tribunals (Mechanism), Judge Carmel Agius, met yesterday with the President of the Seventy-fourth Session of the United Nations General Assembly, Ambassador Tijjani Muhammad-Bande of Nigeria, at United Nations Headquarters in New York.
President Agius commenced by congratulating His Excellency Muhammad-Bande on his recent election as President of the General Assembly and wished him success on his tour of duty. He then briefed His Excellency on the current caseload and judicial developments at both branches of the Mechanism. President Agius indicated that it is expected that nearly all of the existing judicial work will be concluded by the end of 2020, but stressed that in order to do so the Mechanism will need to receive the necessary resources. Subsequently he presented an overview of the Mechanism's 2020 Budget requirements.
President Agius continued by highlighting the importance of the relationship between the Mechanism and the General Assembly. In this regard, he emphasised Member States' cooperation as being essential to the fulfilment of the Mechanism's mandate, and in particular to the apprehension of the remaining eight fugitives indicted by the International Criminal Tribunal for Rwanda (ICTR). President Agius further expressed his sincere appreciation for the support provided by all States enforcing sentences imposed by the ICTR, the International Criminal Tribunal for the former Yugoslavia, or the Mechanism.
Finally, President Agius raised the serious situation of the nine individuals who have been acquitted or released by the ICTR, and who remain in Arusha awaiting a long-term solution for relocation. He concluded by reiterating his personal commitment to strengthening the ties between the Mechanism and both Rwanda and the countries of the former Yugoslavia.
President Agius is in New York to present the seventh Annual Report of the Mechanism to the General Assembly on Wednesday 23 October 2019.