Initial appearance to be held on 17 October 2019 in the Contempt Case of Prosecutor v. Augustin Ngirabatware
Mechanism
Press advisory
Arusha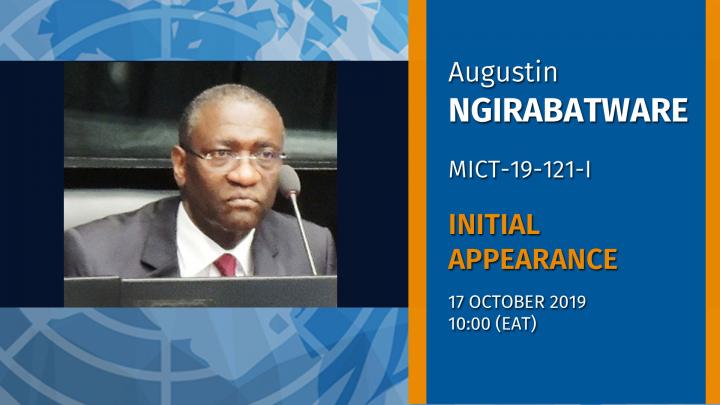 The initial appearance of Mr. Augustin Ngirabatware with regard to allegations of contempt is scheduled for Thursday, 17 October 2019, at 10:00 a.m. in the Courtroom of the International Residual Mechanism for Criminal Tribunals (Mechanism) in Arusha, United Republic of Tanzania, before Judge Vagn Joensen, the Single Judge assigned to the matter.
The Indictment against Ngirabatware was confirmed on 10 October 2019 and charges two counts of contempt and one count of incitement to commit contempt of the International Criminal Tribunal for Rwanda (ICTR), which closed in 2015, and the Mechanism. Ngirabatware is alleged to have interfered with and bribed witnesses in his own case with the help of others, including the accused in the contempt case of Prosecutor v. Turinabo et al., in order to overturn his convictions by the ICTR. He is also alleged to have violated witness protection orders.
On 27 September 2019, the Appeals Chamber rendered its judgement with regard to Ngirabatware's review proceedings. The Appeals Chamber rejected Ngirabatware's attempt to show that the four key witnesses underpinning his convictions by the ICTR for direct and public incitement to commit genocide, and for instigating and aiding and abetting genocide, had truthfully recanted their trial testimonies. The Appeals Chamber observed that the circumstances surrounding the recantations of the four witnesses, including evidence that the witnesses received or sought financial incentives in connection with their recantations, as well as the fact that the recantations may have been orchestrated by others, raised considerable suspicion. The Appeals Chamber decided that the Appeal Judgement, sentencing Ngirabatware to 30 years of imprisonment for these crimes, remains in force. As a result, Ngirabatware remains detained on the basis of this sentence.
The initial appearance will be streamed with a 30 minute delay. In addition, a video of the appearance will be made available on the Mechanism's website following the conclusion of the appearance.
The initial appearance will be open to the public. Journalists wishing to attend the initial appearance are requested to confirm attendance before 16:00 hr on Wednesday, 16 October 2019 to mict-registryarusha [at] un.org.