"Pledge for Parity": the Mechanism Marks International Women's Day 2016
Mechanism
Press release
Arusha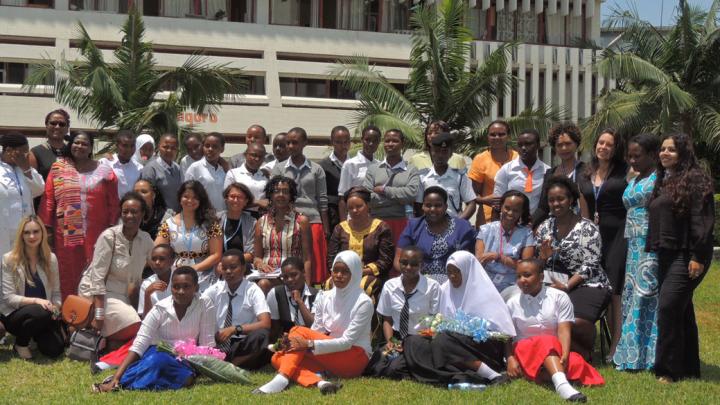 On 8 March 2016, the Arusha branch of the Mechanism for International Criminal Tribunals (MICT) observed International Women's Day (IWD) 2016 with a series of events to celebrate this year's IWD global theme, "Pledge for Parity".
This year's events coincided with the one-year anniversary of the Arusha branch's "Make Her Future Happen: Mentoring Programme for Arusha Girls", successfully launched by the MICT Focal Point for Women as part of the celebrations of IWD 2015. The programme, sponsored by voluntary contributions from MICT and International Criminal Tribunal for the former Yugoslavia (ICTY) staff members as well as the ICTY/MICT Staff Union and the International Criminal Tribunal for Rwanda (ICTR) Staff Association, involved 20 girls and young women between the ages of 17 and 25 years from select public local high schools in Arusha. The programme is aimed at empowering participants to make informed decisions on various topics, ranging from preparing them to pursue higher education or to enter the workforce, to areas of more general interest.
On 8 March 2016, the Arusha branch of the Mechanism hosted an event celebrating the achievements of the programme participants in the past year, both at school and during the mentoring sessions. Honourable Justice Modesta Opiyo, a Judge at the High Court of the Republic of Tanzania, delivered the keynote address and the participants also had the opportunity to speak about their experiences with the mentoring programme.
In connection with the Mechanism's celebrations of IWD 2016, the Library at the Arusha branch also prepared an exhibition of relevant resources in commemoration of this year's theme, which will be exhibited throughout the week. A photographic exhibition of Arusha-based MICT and ICTR staff members with quotations as to what IWD means to them, and why equality for women in the workplace is so important, has also been on display.
In speaking about IWD, Ms. Sera Attika, the MICT Focal Point for Women, commented: "Empowerment leads to greater parity, and empowerment begins at the basic level of education. In honouring the girls and young women participating in the mentoring programme as part of the celebrations for International Women's Day 2016, we make a clear statement that education for girls and women is important."