'Press For Progress': The Mechanism marks International Women's Day 2018
Mechanism
Press release
Arusha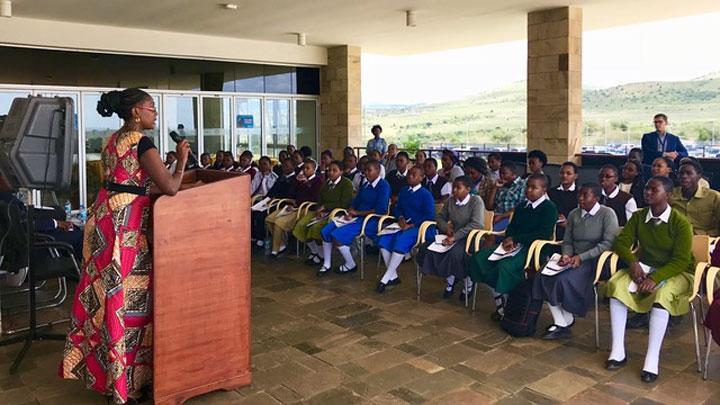 The International Residual Mechanism for Criminal Tribunals (Mechanism) marked International Women's Day today with a variety of events at its Arusha branch. Reflecting on this year's theme 'Press for Progress', the Mechanism joined the global celebration of women's rights, equality and justice, focusing on the criminal prosecution of the crimes of sexual and gender-based violence against women in armed conflicts.
To mark the occasion, the Mechanism invited students from Saint Theresa of the Child Jesus Secondary School, Saint Joseph Nagarenaro Girls' Secondary School, Peace House Secondary School, and the Faculty of Law of the Tumaini University in Arusha to its premises. Also in attendance were members of the Arusha branch of the Tanzania Women Lawyers Association (TAWLA) and participants of the Mechanism's sponsored mentoring programme for teenage girls from Arusha secondary schools. 
The event included presentations by senior officials of the Mechanism and a representative of the Mechanism's Staff Union on the Mechanism's work and mandate. The presentations emphasized the leading role that the Mechanism, the International Criminal Tribunal for Rwanda, and the International Criminal Tribunal for the former Yugoslavia (Tribunals) have played in creating a vast body of jurisprudence related to sexual and gender-based crimes. This includes a number of groundbreaking rulings by the Tribunals – such as those recognizing that the crime of rape may constitute a form of torture and that sexual enslavement may constitute a crime against humanity. These landmark rulings form part of the greater effort to ensure accountability for acts of sexual and gender-based violence committed during armed conflicts around the world.   
As part of the day's events, representatives of TAWLA gave presentations on gender dynamics and developments in their field and participants were further given the opportunity to tour the premises of the Mechanism. Mechanism staff members were on hand during the tours to answer questions and discuss issues relating to women's rights, either specifically relating to international criminal justice or more generally.