Uruguay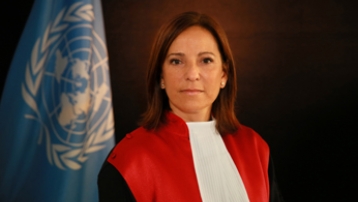 Judge Graciela Gatti Santana was born on 1 August 1964, in Montevideo, Uruguay.
Judge Gatti graduated as Notary Public in 1987 and in 1988 as a Lawyer at the University of the Republic of Uruguay ("UDELAR") – School of Law and Social Sciences. She approved a post-graduate Course in Legal Argumentation at the University of Alicante, Spain (2008).
From 1987 to 1992, Judge Gatti practiced as Notary Public and Lawyer.  
In July of 1992, she entered the Judiciary and she has been a Judge since 1994, assigned to different Courts in various locations of Uruguay. Between 2006 and 2008, she was assigned to the Criminal Court of the 7th Term in Montevideo (Capital of Uruguay) and in 2009 she was transferred to the Criminal Court Specialized in Organized Crime of the 1st Term, created at that time.
In June 2012 she was promoted to the Appeals Court of the 4th Term (competent in civil matters), and finally, on March 2016 she was transferred to the Court of Criminal Appeals of the 1st Term (current position).
Judge Graciela Gatti is a teacher at the UDELAR – School of Law and Social Sciences, in Private International Law, and at the Judicial School (Centro de Estudios Judiciales el Uruguay), where she has taught Human Rights and at the present time she is in charge of different courses for Judges about Criminal Procedural Law.
Since 2015, she has been a consultant to the Supreme Court of Justice of Uruguay in the process of implementation of a new Code of Criminal Procedure Law.