Tanzanian Minister of Justice visits the Mechanism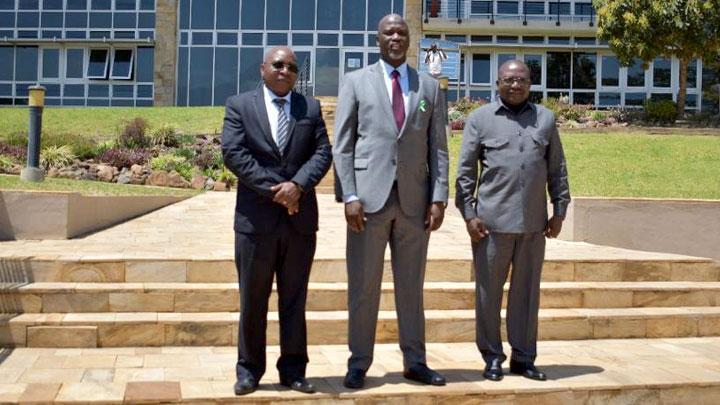 The Registrar of the International Residual Mechanism for Criminal Tribunals (Mechanism), Abubacarr M. Tambadou, today welcomed to the Arusha branch a delegation headed by the Minister of Constitutional Affairs and Legal Affairs for the United Republic of Tanzania, the Hon. Dr. Damas D. Ndumbaro (MP). Minister Ndumbaro was joined by Hon. Geophrey Mzengo Pinda (MP) Deputy Minister of Constitutional Affairs and Legal Affairs, Ms. Mary G. Makondo, Permanent Secretary, Dr. Khatibu M. Kazungu, Deputy Permanent Secretary, Ms. Nkasori Sarakikya, Director for Human Rights and other Ministry staff. 
During this high-level meeting, Minister Ndumbaro was briefed on the progress of the Mechanism and its ongoing judicial work. Registrar Tambadou expressed his gratitude for Tanzania's continued commitment to the work of the Mechanism and its support to the values and ideals that Mechanism represents.  A number of other topics of mutual interest were also discussed, including strengthening cooperation between the Mechanism and the Tanzanian government. 
Minister Ndumbaro commended the great work of the Mechanism and its predecessor the International Criminal Tribunal for Rwanda and thanked the Mechanism officials and reiterated the  continued cooperation of the Government of Tanzania in ensuring that the Mechanism discharges its functions. The courtesy visit concluded with a tour of the Mechanism's courtroom, library and the archives section and finished by signing the visitor's book.