President Gatti Santana participates in High-Level Opening Plenary of International Law Weekend
President
News
Arusha, The Hague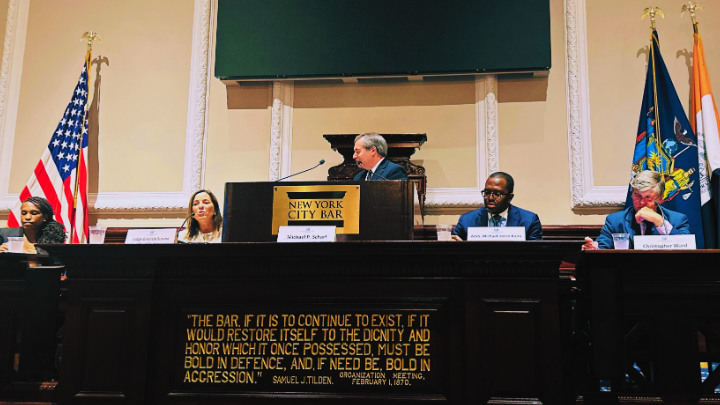 The President of the International Residual Mechanism for Criminal Tribunals (Mechanism), Judge Graciela Gatti Santana, participated yesterday in the High-Level Opening Plenary of the International Law Weekend 2023, organised by the American Branch of the International Law Association (ABILA) in New York.
Under the conference's theme "Beyond International Law", President Gatti Santana addressed some of the shortcomings of international law with which the Mechanism has struggled, focusing on difficulties in ensuring State cooperation - despite States' binding obligations under Chapter VII of the United Nations Charter - and the perception of double standards, both in deciding when an international criminal tribunal would be established and in selecting investigations and prosecutions. The President also discussed how international law has advanced to meet the challenges of the times, including through the development of and reliance on the jurisprudence of international criminal tribunals such as the Mechanism and its predecessor ad hoc Tribunals. She concluded that, even where the framework of international law cannot adapt to become more effective, international lawyers can change their approach to it.
The High-Level panel, which was moderated by Professor Michael Scharf, President of ABILA, also comprised: Ms. Maxine Burkett, Assistant Director for Climate, Ocean, and Equity, White House Office of Science and Technology Policy; Ambassador Michael Imran Kanu, Permanent Representative of Sierra Leone to the United Nations; and Mr. Christopher Ward, Senior Counsel and Immediate-Past President & Vice President of the International Law Association.
Diplomats, academics, civil society representatives, journalists, students and others attended this opening session of the annual ABILA conference, which will conclude on 21 October 2023.
President Gatti Santana is currently on official mission to New York, where she presented the Mechanism's eleventh annual report to the General Assembly on 18 October 2023.