President Gatti Santana meets with Tanzanian Minister of Constitutional and Legal Affairs, His Excellency Hon. Dr. Damas D. Ndumbaro, and other high-level Government officials
President
Press release
Dodoma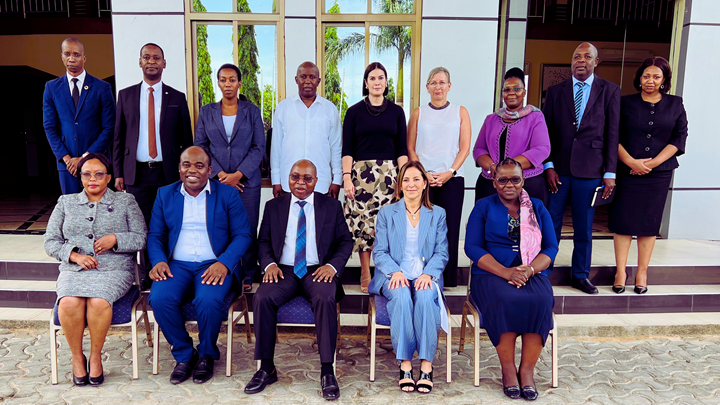 Today the President of the International Residual Mechanism for Criminal Tribunals (Mechanism), Judge Graciela Gatti Santana, met with His Excellency Hon. Dr. Damas D. Ndumbaro, Minister of Constitutional and Legal Affairs of the Republic of Tanzania (Tanzania), at the seat of the Tanzanian Government in Dodoma. Minister Ndumbaro was accompanied by several senior members of his Ministry, as well as Government officials from the Ministry of Foreign Affairs and East African Cooperation, the Parliamentary Committee on Governance, Constitution and Legal Affairs, and the National Prosecutions Services.
On behalf of the Mechanism, President Gatti Santana expressed profound appreciation for the invaluable role played by Tanzania as Host State of the Mechanism's Arusha branch since 2012, as well as of the International Criminal Tribunal for Rwanda (ICTR) until its closure in 2015. In this regard, President Gatti Santana praised the strong support that Tanzania provides to the Mechanism and its Judges, Principals, and staff. She then briefed the delegation on the Mechanism's most recent developments and shared plans of important events that will be held at the Arusha premises in 2024.
Next, President Gatti Santana and Minister Ndumbaro turned to the future of the Mechanism, following the completion of its judicial caseload in due course, and in particular the plans for its Arusha premises, including its Library and the archives of the ICTR and the Mechanism. Referring to Arusha as the judicial capital of Africa, Minister Ndumbaro recalled some of the landmark decisions handed down by the ICTR, as well as the contribution of other international and regional courts located there. His Excellency described the Mechanism's Arusha premises as a global investment of the United Nations that must continue to benefit the international community, and underscored that the Library is of special significance to Tanzania as it enriches the country's long-standing tradition of attracting top lawyers and researchers from the region. Separately, Minister Ndumbaro reiterated Tanzania's strong interest in the preservation of the archives of the ICTR and the Mechanism and their historic legacy.
The ensuing discussion with members of the delegation concerned, among other matters, finding ways in which cooperation could be strengthened between the Mechanism and Tanzania. President Gatti Santana also extended an open invitation to the Minister and his delegation to visit the Mechanism's premises. In closing, Minister Ndumbaro pledged his Government's commitment to continuing to fully support the Mechanism.
The Mechanism was established by the United Nations Security Council on 22 December 2010, and is mandated to perform a number of essential functions previously carried out by the ICTR and the International Criminal Tribunal for the former Yugoslavia. Its branch in Arusha, Tanzania, started operating on 1 July 2012. President Gatti Santana is the Mechanism's third President and assumed her functions on 1 July 2022.