President Agius delivers closing remarks at the Kwibuka25 conference in The Hague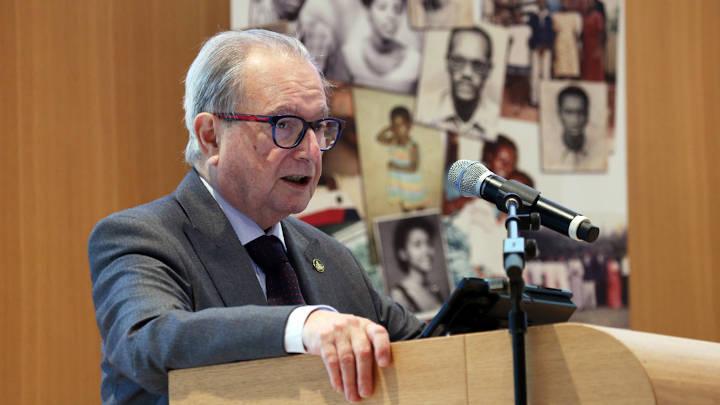 The President of the International Residual Mechanism for Criminal Tribunals (Mechanism), Judge Carmel Agius, today delivered the closing remarks at the Kwibuka25 conference entitled "The Genocide against the Tutsi 25 Years On: What Lessons Has the World Learned from Rwanda in Prevention and Responses to Genocides Worldwide?" at the Peace Palace in The Hague.
The aim of the conference, which gathered high profile officials and experts on Rwanda, genocide, and peace-building, was to reflect on the events that took place in Rwanda a quarter of a century ago in order to inform current and future interventions to prevent genocides.
President Agius recognised how difficult it can be to speak about the Genocide against the Tutsi but emphasised that "even the most painful and unbearable memories are important because they can, and must, inform the future." In addressing the role of international justice in restoring peace and security, the President identified five lessons: (i) there can be no lasting peace without justice; (ii) there can be no place for denial; (iii) national and local institutions must be strengthened; (iv) the work is never done, therefore continued determination is needed; and (v) justice can only be achieved when all stakeholders work together.
President Agius concluded that "[w]hen the world community comes together and cooperates, then justice, peace, and security are given an opportunity to take hold, even flourish. But when the world community fails to act, even with death upon its doorstep, then genocide and other atrocity crimes will proliferate unchecked."
As part of the conference, Mr Mathias Marcussen, Senior Legal Officer within the Mechanism's Office of the Prosecutor, also delivered remarks concerning cooperation in the fight against impunity for genocide perpetrators, providing insight into the experience and legacy of the International Criminal Tribunal for Rwanda (ICTR), the International Criminal Tribunal for the former Yugoslavia (ICTY) and the Mechanism.
The one-day conference, organised by the Embassy of the Republic of Rwanda in The Netherlands, is part of a series of events taking place within the framework of the 25th remembrance of the genocide committed against the Tutsi in Rwanda.