MIP representative participates in a conference commemorating 30 years since the beginning of the Siege of Sarajevo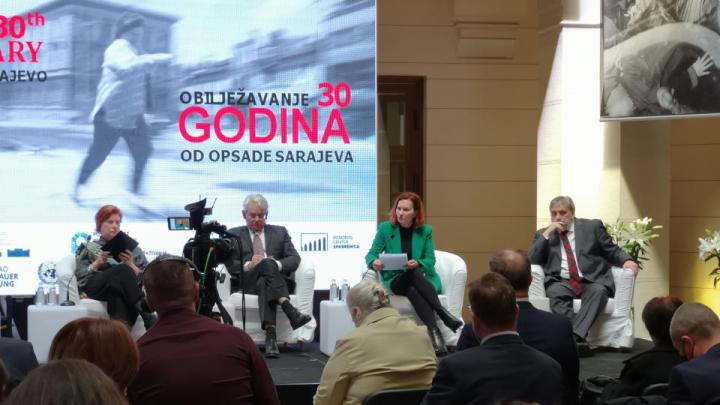 On 5 April 2022, the coordinator of the International Residual Mechanism for International Criminal Tribunals' Information Programme for Affected Communities (Mechanism and MIP, respectively), Ms. Rada Pejić-Sremac, particpated in the first panel of the international conference "30 Years After – Sarajevo" at Sarajevo City Hall, Bosnia and Herzegovina (BiH).
The conference, which was the central event in a series of events commemorating the 30thanniversary of the beginning of the Siege of Sarajevo, gathered a number of renowned local and international experts, journalists, and academics, and was organised jointly by the Post-Conflict Research Center, the City of Sarajevo, the Information Centre on International Criminal Tribunal for the former Yugoslavia (ICTY), the Srebrenica Memorial Centre, and the Memory Module project. The President of the Mechanism, Judge Carmel Agius, and Chief Prosecutor of the Mechanism, Mr. Serge Brammertz, participated in the opening of the conference, together with Ms. Benjamina Karić, Mayor of Sarajevo and Mr. Emir Suljagić, Director of the Srebrenica Memorial Center.
During a panel discussion titled "The Siege of Sarajevo, the Bosnian War and War Crimes Prosecution: International Experiences and Perspectives," Ms. Pejić-Sremac discussed the role of the media in cases before the ICTY and the Mechanism. She emphasised the contribution of journalists as witnesses, and stressed the importance of the audiovisual material they produced during the war, which was entered into evidence in trials before the ICTY and the Mechanism.
The MIP's participation in the conference formed part of the Programme's efforts to support projects and events organised by civil society organisations active in the field of transitional justice in the region of the former Yugoslavia.
The aim of the MIP is to improve the knowledge and understanding of citizens and communities in the countries of the former Yugoslavia about the crimes committed during the conflicts of the 1990s, based on the jurisprudence of the ICTY and the Mechanism. The MIP is generously supported by the European Union.