MIP participates in BIRN BiH panel discussion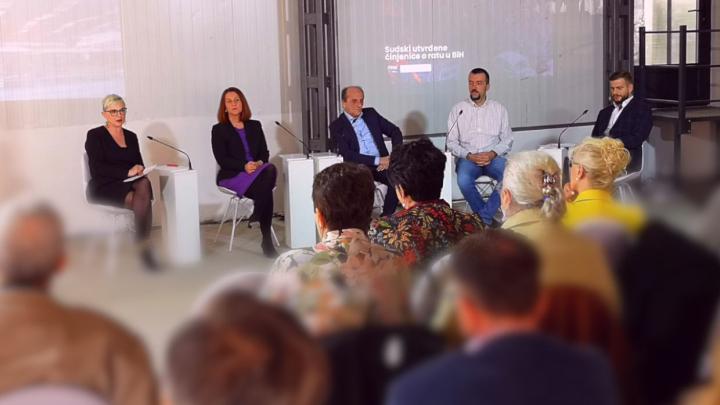 On 6 April 2022, Mechanism Information Programme for Affected Communities (MIP), participated in the panel discussion, "No Room for Adjudicated Facts in School Curricula" organised by the Balkan Investigative Reporting Network in Bosnia and Herzegovina (BIRN BIH).
The panel discussion focused on the place of adjudicated facts in educational material and curricula in Bosnia and Herzegovina (BiH). During the panel, BIRN BIH presented highlights from its database of facts related to the 1992-1995 Siege of Sarajevo that were established in judgements of the International Criminal Tribunal for the former Yugoslavia (ICTY). One of the goals of the database is to help future researchers, students and journalists find the basic information they need for their work and also to assist teachers and education ministries by supplying materials for school curricula and methodologies for teaching about the 1990s conflicts in the former Yugoslavia.
In her remarks, MIP Youth Coordinator Ms Anisa Sućeska congratulated the team at BIRN BIH for their dedicated work and stressed the importance of including the facts established before the ICTY and the International Residual Mechanism for Criminal Tribunals (Mechanism) in school curricula. She also presented the work of MIP's youth outreach project, focusing on educating high school teachers and historians on how to effectively use judicially-established facts when creating educational material.
Together with Ms Sućeska, Ms. Agnes Picod, a senior human rights advisor in the Office of the United Nations Resident Coordinator in BiH took part in the panel, along with BIRN's local director, Mr. Denis Džidić, BIRN journalist Mr. Haris Rovčanin and history professors Ms. Melisa Forić and Mr. Zijad Šehić.
BIRN BiH also premiered its project entitled "44 Months Under Siege", which features video interviews with 44 people who lived through the 1992-1995 Siege of Sarajevo.
The MIP's participation in the panel discussion formed part of the Programme's efforts to support projects and events organised by civil society organisations that are active in the field of transitional justice in the region of the former Yugoslavia.
The aim of the MIP is to improve the knowledge and understanding of citizens and communities in the countries of the former Yugoslavia about the crimes committed during the conflicts of the 1990s, based on ICTY and Mechanism cases. The MIP is generously supported by the European Union and the Swiss Federal Department of Foreign Affairs.