MICT Celebrates International Women's Day in Arusha
Mechanism
Press release
Arusha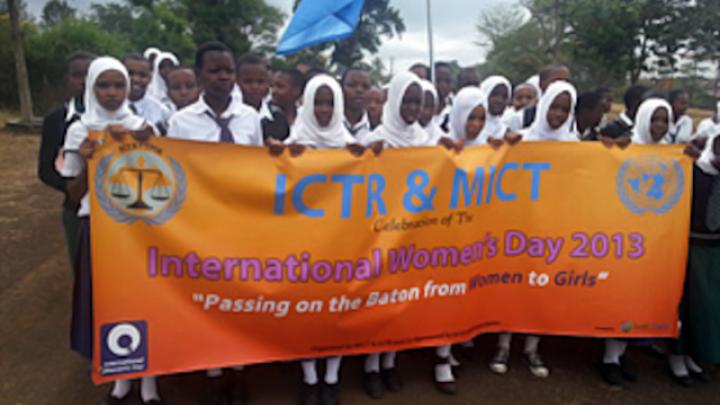 The Mechanism for International Criminal Tribunals (MICT) commemorated its first International Women's Day in collaboration with the International Criminal Tribunal for Rwanda (ICTR) as a combined UN Office in Arusha, Tanzania. The theme of this year's International Women's Day was Passing the Baton from Women to Girls.
Celebrations began on 7 March 2013 with the visit of the Danish Prime Minister, Her Excellency Ms. Helle Thorning-Schmidt to the Arusha International Conference Centre (AICC), where the ICTR and MICT Offices are located.  During her visit, Her Excellency met with the FARAJA Women's Network Group, a non-profit organisation, directly supported by Her Excellency, that works towards empowering survivors of gender based violence.
On 8 March 2013, the MICT and the ICTR organised a program for staff members and local students, which included a message from the Registrar delivered by the Head of the Registry Arusha Branch of the MICT. Following this program, a debate involving two national secondary school students was on the topic, Women Will Make Better Presidents For A Better World – True or False?  The teams, who were judged by staff members from both the MICT and the ICTR, were comprised of four boys for the Opposing team and four girls for the Proposing Team. In the spirit of comradery, all participants of the debate received Gift Vouchers to a local bookstore.
Saturday, 9 March 2013, featured a Family Fun and Health Outreach day. Participating students congregated at the AICC building in the morning, and together with MICT and ICTR staff members walked seven kilometres to the venue where the rest of the day's activities were held. In addition to various fun activities for staff members and their children, highlights of the day included a health awareness program for 250 secondary school girls from four national schools where sanitary towels were distributed following a lecture delivered by a Tanzanian Health Education teacher, and a soccer tournament for the participating girls. Winning teams of competitions received awards for their performance, with the winning team of the soccer tournament walking away with the first ever MICT/ICTR Trophy and additional gifts provided by local sponsors.
The ICTR Library continues to raise awareness of women's issues throughout the month of March in its exhibition of a selection of books on issues around domestic violence, sexual exploitation and abuse, as well as empowerment.