Mechanism Honours the Life and Legacy of Benjamin B. Ferencz
Mechanism
News
Arusha, The Hague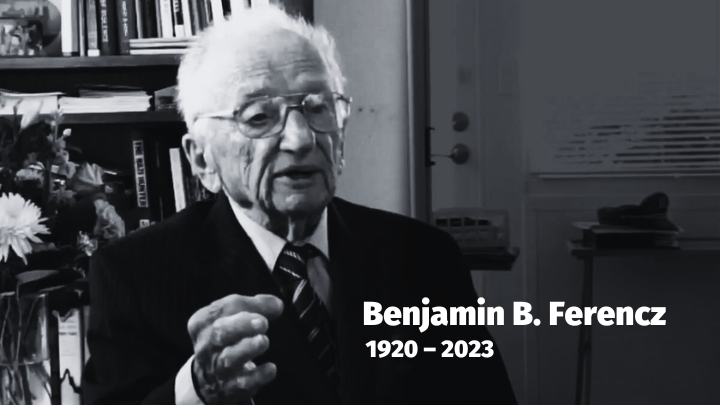 The International Residual Mechanism for Criminal Tribunals (Mechanism) was deeply saddened to learn about the passing of Benjamin "Ben" Ferencz, a pioneer in the field of international criminal justice.
With passion, wit, and wisdom, Ben Ferencz dedicated his life to pursuing justice for, and bringing to an end, humanity's gravest international crimes. He will forever be known as one of the founding fathers of international criminal law, who made an unparalleled contribution to the field through his lifelong engagement to hold perpetrators of atrocity crimes to account. His commitment to the development and strengthening of accountability mechanisms was tireless, his determination knew no bounds, and his belief in the power of the rule of law was indestructible.
Ben Ferencz's leadership paved the road from Nuremberg to The Hague, and then from The Hague to locations around the globe. After successfully prosecuting the famed Einsatzgruppen case in Nuremberg, his insight would be relied upon by the first President of the International Criminal Tribunal for the former Yugoslavia (ICTY), Judge Antonio Cassese, when he recalled the imperative of ensuring that accused perpetrators must face justice if the world is to enjoy the rule of law rather than the rule of war. Ben Ferencz shared his enthusiasm and eloquence at every opportunity, including as a distinguished opening speaker at the closing ICTY Legacy Conference in Sarajevo, Bosnia and Herzegovina. He continued to espouse his views, which have resonated with audiences around the world, into his final 103rd year.
Ben Ferencz's legacy will continue to thrive through the Planethood Foundation, an initiative established by Ben along with his son, Donald M. Ferencz, to promote the rule of law and foster the exchange of knowledge and capacity-building between actors involved in the pursuit of accountability worldwide. In this respect, the Mechanism has been honoured to collaborate with the Planethood Foundation in recent years, including through the Mechanism's hosting of the inaugural Judicial Colloquium in Arusha, United Republic of Tanzania.     
The Mechanism remains committed to sharing the lessons learned from decades of criminal proceedings for atrocity crimes, and is confident that in doing so it will help to strengthen the human drive to accountability for which Ben Ferencz dedicated his life. And while we walk on the path, named after him, leading to the bench overlooking the Peace Palace in The Hague, we shall find inspiration and strength to keep building around his life's work of "Law. Not War."