The Mechanism and other International Organizations host the second International Organizations Open Day in Arusha
Mechanism
Press release
Arusha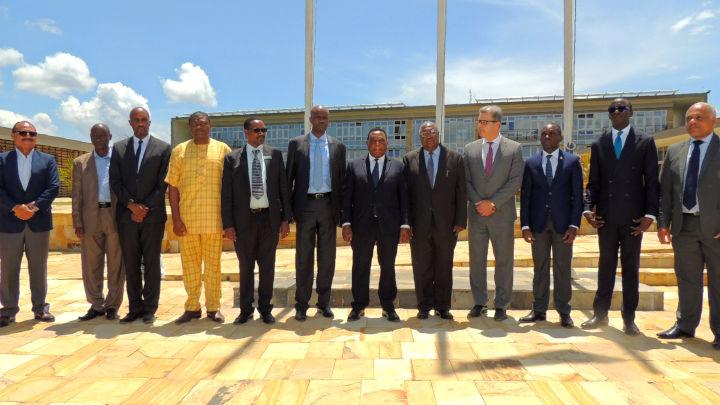 On Saturday, 3 November 2018, the International Residual Mechanism for Criminal Tribunals (Mechanism), together with the African Court on Human and Peoples' Rights, the African Institute of International Law; the African Union Advisory Board on Corruption, the East African Community and its constituent institutions, the East, Central and Southern Africa Health Community, the Eastern and Southern African Management Institute, and the Pan African Postal Union, hosted the second International Organizations Open Day at the Mechanism's premises in Lakilaki, Arusha, the United Republic of Tanzania.
The second International Organizations Day, which was attended by more than 1300 visitors, was a great success. The event was opened by Mechanism Judge William Sekule, who welcomed the guest of Honour, His Excellency Dr. Augustine Mahiga, Minister of Foreign Affairs and East African Cooperation of the United Republic of Tanzania, and the public to the Open Day and expressed the Mechanism's pleasure to host this important event.
The Minister expressed his appreciation for the organization of the Open Day and reiterated the support of the Government of the United Republic of Tanzania for this event. Other high-level speakers included the Honourable Kalisti Lazaro Bukhay, Lord Mayor of the City of Arusha, Heads of the participating international organizations or their representatives, the Prosecutor of the Mechanism, Mr. Serge Brammertz, the Mechanism's Registrar, Mr. Olufemi Elias, and the Resident Coordinator of the United Nations Systems in Tanzania, Mr. Alvaro Rodriguez. The various speakers unanimously highlighted the positive impact this Open Day has had on the whole of the Arusha community, as well as in the interaction between the different organizations.
The formal remarks were then followed by a variety of presentations throughout the course of the day by representatives of the Mechanism's Office of the Prosecutor, and the Registry. In addition, the public was given the opportunity to visit an exhibition at the library displaying the rich archives of the International Criminal Tribunal for Rwanda and the International Criminal Tribunal for the former Yugoslavia. There was also a medical team present that conducted free medical check-ups, as well as a children's corner with activities for the younger visitors.