Ambassadors of Belgium, Denmark, and The Netherlands visit Mechanism's Arusha Branch
Mechanism
Press release
Arusha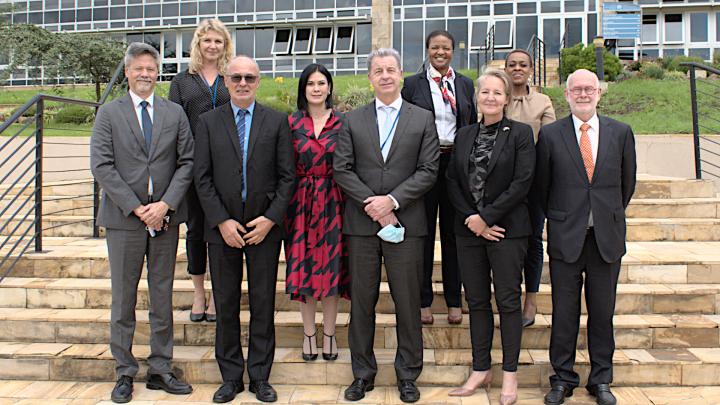 On Tuesday 18 May 2021, the International Residual Mechanism for Criminal Tribunals ("Mechanism") welcomed three Ambassadors to its Arusha branch premises.
The visit was a courtesy call by the Ambassador of the Kingdom of Belgium to Tanzania, His Excellency Peter Van Acker, the Ambassador of the Kingdom of Denmark to Tanzania, Her Excellency Mette Nørgaard Dissing-Spandet, and the Ambassador of the Kingdom of the Netherlands to Tanzania, His Excellency Jeroen Verheul.
The Ambassadors were received by the Prosecutor of the Mechanism, Mr. Serge Brammertz, who briefed them on the mandate of the Mechanism and the challenges it faces, including with regard to the tracking of the remaining fugitives indicted by the International Criminal Tribunal for Rwanda. Prosecutor Brammertz expressed sincere gratitude to the Governments of Belgium, Denmark, and the Netherlands for their long-standing support to the work of the Mechanism and its predecessor Tribunals.
In addition, the Ambassadors met with the President's Chef de Cabinet and Principal Legal Advisor, who provided an update on the progress of the Mechanism's judicial activity, as well as matters relating to the Mechanism's supervisory role in the enforcement of sentences. Finally, the Ambassadors met with representatives of the Registry, who briefed them on the support provided by the Registry to the Mechanism's ongoing cases, as well as other priority activities.
Expressing thanks to Prosecutor Brammertz and the other Mechanism representatives for their hospitality and the information provided, the Ambassadors reiterated their respective Governments' full support to the important work of the Mechanism.
---
Gallery of photos
---