The Mechanism celebrates International Women's Day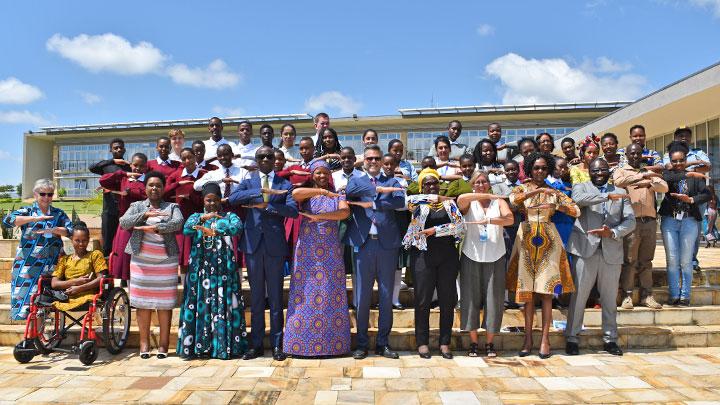 On Friday 6 March 2020, the International Residual Mechanism for Criminal Tribunals (Mechanism) hosted an early celebration of International Women's Day, which is officially marked on 8 March. The Mechanism's celebration reflected this year's International Women's Day theme of gender equality and the campaign: "I am Generation Equality: Realizing Women's Rights".
In celebrating this year's global theme, the Mechanism's Arusha branch welcomed over 60 students from Arusha Meru International School, Braeburn International School, Peace House Secondary School, and Saint Theresa of the Child Jesus Secondary School, as well as representatives of two local non-governmental organizations (NGOs) supporting gender equality in Tanzania.
The Registrar, Mr. Olufemi Elias, welcomed the guests and participants to the event and reiterated the importance of gender equality to the Mechanism. Presentations were also made by the Arusha branch Gender Focal Point, Ms. Thembile Segoete, and the President of the Staff Union, Ms. Gloria Otieno. In addition, two local representatives campaigning for gender equality in Tanzania, Ms. Jovita Mlay from SASA Foundation and Ms. Monica Kipuyo from Shanga Foundation gave presentations on the importance of pushing for gender equality and their work in empowering women across Tanzania.
As part of the day's events, the message of the United Nations Secretary-General, Mr. António Guterres, on the importance of International Women's Day, and a video of Mechanism staff sharing their views on the meaning of International Women's Day, were presented. Representatives of the NGOs also displayed crafts produced by the women they support, and participants were given the opportunity to tour the Mechanism's Arusha branch premises.
This International Women's Day event took place with the full support of the Mechanism's three Principals, in line with their pledges undertaken as International Gender Champions for the Gender Champions Initiative, as well as the Mechanism's Staff Union.
The Mechanism will continue celebrating this special day with a social media campaign throughout the month of March.