Prosecutor Brammertz met with delegations of the Prosecutor's Office of Bosnia and Herzegovina and War Crimes Prosecutor's Office of Serbia
Office of the Prosecutor
Press release
The Hague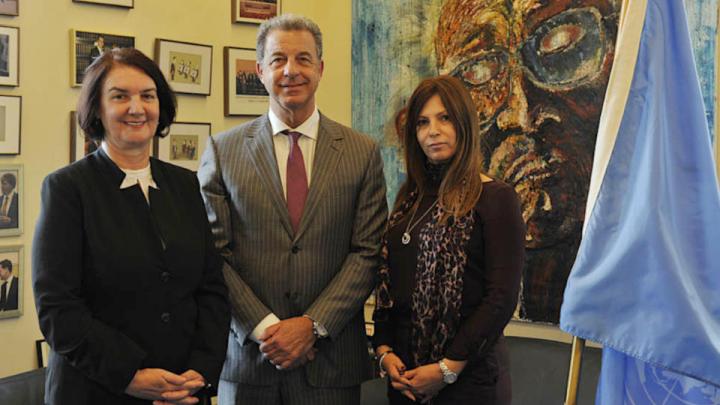 On 9 and 10 September 2019 Chief Prosecutor Brammertz welcomed Chief Prosecutor Gordana Tadić of the Prosecutor's Office of Bosnia and Herzegovina and Chief Prosecutor Snezana Stanojković of the War Crimes Prosecutor's Office of Serbia and their respective delegations for meetings in The Hague.
The meetings were convened in follow-up to the Regional Conference of War Crimes Prosecutors held in Belgrade from 20 to 22 May, particularly the commitment to identify specific cases to transfer between their offices in order to improve regional cooperation. Chief Prosecutors Tadić and Stanojković provided updates on their Offices' activities in this regard, and agreed to initiate the transfer of identified cases in the coming months. The three Prosecutors further agreed that the Mechanism OTP will facilitate the transfer of these cases, provide required assistance and monitor developments following the transfer.
Chief Prosecutors Tadić and Stanojković further underlined the critical importance of the Liaison Prosecutors Project, funded by the European Commission, in the joint efforts to improve regional cooperation and achieve successful results in war crimes prosecutions. They requested the Mechanism OTP to ensure the continuation of this Project. It was further agreed that the Liaison Prosecutors would assume a greater role in promoting improved regional cooperation, including by working together on cases of mutual interest.
The Chief Prosecutors also discussed the need to continue strengthening cooperation between the Mechanism OTP and domestic war crimes prosecution offices. It was agreed that there is a significant need for expert advice and assistance from the OTP to assist war crimes prosecutions at the domestic level and reduce the backlog of outstanding cases. At the request of the Prosecutor's Office of Bosnia and Herzegovina, the OTP will offer an advanced training on prosecuting sexual violence crimes later this year in Sarajevo. At the request of the War Crimes Prosecutor's Office of Serbia, the OTP will host newly-appointed deputy prosecutors and legal assistants for five day induction training in The Hague in the coming months. These capacity building activities are made possible by financial support generously provided by donors, including the European Commission and the Dutch Ministry of Foreign Affairs.