Uganda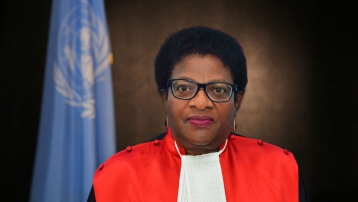 Executive Summary
Accomplished, savvy, and committed Judge with a passion for International Criminal Law, Human Rights, and International Humanitarian Law. Impressive legal background both nationally and internationally with contributions made to the United Nations Criminal Tribunal for Rwanda, Arusha, and the Special Court for Sierra Leone, Sierra Leone. Intense knowledge and understanding of Human Rights policies, practices and procedures as well as institutions on a global scale. Well-versed in research, report writing, and presentation skills with fluency in English and has good command of spoken Luganda with conversational ability in Kiswahili. Trusted and well-respected professional underscoring transparency. World traveller and has had liaison with numerous supportive associations and non-governmental organizations.
Core Competencies
Legal - Excellent knowledge of the Procedural and Evidential Laws of both the Special Court and the International Tribunal. Key contributor to the development of international human rights, humanitarian, and criminal law.
Management - Proven background of successfully managing national and international staff and operations to meet clientele, corporate, and institutional objectives.
Communications - Trusted counsellor to a culturally diverse client base both nationally and internationally to ensure that their legal and human rights are understood.
Instruction - Presented to civil society on multiple occasions regarding human rights issues, anticorruption issues and gender issues e.g. the rights of the accused and necessity for equality of arms between the defence and the prosecution, anti-corruption problems, gender equality.
Research - Avid researcher for a multitude of legal and human rights issues that pertain to international tribunals and courts.
Selected Achievements
Participated as a researcher for Uganda's Constituent Assembly and successfully advised women delegates to include provisions on minority representations, women's human rights, and issues that pertained to accountability and the environment.
Contributed to Uganda's 1995 Constitution whereby articles on accountability of Public Officials and establishment of Anti-Corruption Courts were included.
Spearheaded establishment of an anti-corruption NGO known as Transparency Uganda in 1993 that was an anti-corruption crusade and promoted civil society awareness of their rights and challenged public officials who practiced corruption or abused their offices.
Legal Adviser to the Women Caucus of the Constituent Assembly and advised Women Delegates to introduce provisions that enhanced the political status of women.
Established and grew a successful law firm and in role of Private Practitioner supported Women's Rights by providing practical support to the Legal Aid Project that assisted indigent citizens (particularly women and children).
National and International Legal Experience
June 2017 - Freelance Independent International Legal Expert
Engaging in consultancies relating to International Law, International Humanitarian Law and International Human Rights Law.
March 2009 - May 2017
Judge, International Crimes Division of the High Court of Uganda
Adjudicate on matters arising from the Juba Process between the L.R.A. and the Government of the Republic of Uganda, particularly try perpetrators of Crimes against Humanity and War Crimes under the auspices of the complementarity principle of the Rome Statute, and preside over domestic criminal law cases comprising criminal miscellaneous applications and substantial hearings.
2013 - Listed on the Roster of Eminent Judges for the Residual Special Court for Sierra Leone for three years and now the Vice President on the List.
• Under a contingency arrangement, Judges on the List are called upon as and when needed and particularly, if the only fugitive John Paul Koroma is apprehended and has to be tried.
2004 - 2008
Special Court for Sierra Leone, Freetown, Sierra Leone
Principal Defender/ Deputy Principal Defender
• Served as Deputy Principal Defender and later as Principal Defender for The Special Court for Sierra Leone that was set-up jointly by the Government of Sierra Leone and the United Nations and is mandated to try those for serious violations of international humanitarian rights and criminal law. This included, but was not limited to, war crimes, crimes against humanity, and other serious violations of international humanitarian law.
• Represented the Principal Defender as requested and provided substantive and formidable defence capabilities to accused persons as necessary, ensured the rights of the accused in accordance with the Rules of Procedure and Evidence of the Court and other applicable rules. Also carried out the administrative and management role of the Defence Office of the Special Court
• Recommend policies and procedures under direction of Principal Defender concerning:
(a) A Directive on Legal Assistance provided by the Special Court.
(b) Fee structure of contract counsel.
(c) Functions of Duty Counsel for suspects and accused upon transfer into custody of Court.
(d) Respect for the code of professional conduct by defence counsel; provision of defence team support facilities; provision of a Defence Resource Library; Consultations and liaison with Chief of Detention Facility on matters relating to rights of the accused, counsel client privilege, visiting hours, and medical treatment.
(e) Liaison with worldwide Bar Associations and/or establishment of separate bar association of the Special Court.
(f) Provided the background Paper on which the ICC Defence Policy was crafted
• Prepare proposals for Rules to be adopted at the Plenary, provide advice on ethical issues and matters concerning conflicts of interest; and, serves as a liaison with Victims and Witnesses Services.
• Administer legal services contracts, payment schedules and budgets, and mediate disputes over same.
• Assume duty counsel functions as required for initial advice and bail applications.
• Conduct legal research, prepare drafts, and provide substantial legal support to defence counsel.
• Supervise overall quality of trial teams, legal officers, investigators, financial tracks, pro-bono lawyers, and legal interns.
• Propose and implement adequate management information systems for the monitoring of work performed; and, participate as requested in various outreach activities for the Office of Principal Defender.
1996 - 2004
United Nations Criminal Tribunal for Rwanda, Arusha, and Tanzania
Trial Chamber Coordinator
• Managed all trials conducted by the Trial Chamber and attended court sessions as a support Lawyer to judges in the United Nations Criminal Tribunal for Rwanda, Arusha, and Tanzania.
• Served as a liaison between the Chamber and other sections such as Defence, Prosecution, Court Management, and associated Chambers to ensure an efficient order of the court.
• Participated in the preparation of the Plenary Sessions and conducted extensive legal research on assigned topics that included, but was not limited to, International Human Rights Law, Humanitarian Law, Criminal Law, Procedural Matters, and Evidence.
• Supported and assisted Judges on motions and summarising of evidence; and, briefed Judges on assigned case status including disclosure matters and indictments.
• Prepared analytical reports and opinions on legal matters and supervised staff of multinational interns assigned to the Trial Chamber.
• Provided comprehensive legal advice on matters such as International Humanitarian, Human Rights, and Criminal Law.
1993 - 1996
Ibanda Nahamya & Co. Advocates
Founding Partner
• Established and grew this general practice law firm with responsibility for client representation in various criminal, civil, and commercial cases.
• Represented women and children as part of the legal aid cases assigned to the firm by the Women Lawyers Association (FIDA U).
• Challenged a number of issues relative to women and children's rights that included succession rights after the death of a husband, maintenance of children by their fathers, and cases of physical violence against married women.
• Counselled women on a wide array of legal matters and provided information and support.
1992 - 1993
Ministry of Justice & Constitutional Affairs
Research
• Conducted research on a diverse range of legal subjects and Human Rights issues and served as Legal Secretary to a Select Committee of the Consultant Assembly on Land, Environment, and the Inspectorate of Government and Leadership Code.
• Contributed as Legal Advisor to the Women Caucus of the Constituency Assembly and the Constituency Assembly Clerk.
• Participated in drafting of the Parliamentary Election Bill and the Presidential Election Bill.
• Monitored the Presidential elections under the auspices of the Transparency Uganda.
1990 - 1992
Katende, Sempebwa & Co. Advocates, Kampala
Senior Legal Assistant
• Headed the Women's Desk and handled various family and estate matters.
• Provided information and support to women on their land and family property rights and matters associated with death of their husbands.
• Administered several cases that involved female orphans and relatives to support preservation of their rights to property against male family members.
1979 - 1980
Mawaali & Co. Advocates, Jinja Uganda
Advocate
• Ensured the smooth and efficient daily operation of the branch office and participated in various criminal casework assignments for the firm.
Presentations and Instructional Experience
Ahmadu Bello University, Zaria, Kaduna State, Nigeria 1981 - 1989
Lecturer
• Prepared and delivered lectures on a wide range of topics that included Criminal Law, Family Law, and Insurance Law.
Central Bank of Lesotho/National University of Lesotho Maseru 1980 - 1981
Part-Time Lecturer
• Instructed Bankers in the Law of contract and lectured university students in company law.
Law Development Centre, Kampala 1976 - 1977
Assistant Lecturer
• Lectured to lay Magistrates, Prison Officers, Administrators, and Bar Students in Criminal Law and Contract Law. Oversaw preparation of weekly moots, engaged in research and publications of the monthly High Court Bulletins and publications of the Uganda Law Reports.
Other Experience
Consultant, Skills Consultants, Kampala, Dec. 1995
• Advised on the institutional set-up and applicable law concerning the Government Central Purchasing Corporation.
Legal Consultant, Ministry of Finance, 1993
• Negotiated the establishment of the Economic Policy Research Centre and served as Legal Secretary during the initial period.
Law & Policy Specialist, National Environment Action Plan for Uganda, 1992 - 1993
• Assisted Task Force on policy, legislation, and institutional arrangement and participated in drafting of the National Environment Management Authority Statute and Investment Programme for Uganda.
Legal Consultant, World Bank - Bwindi Impenetrable Forest Project, 1992
• Provided advice on the institutional arrangement that culminated in the establishment of a Trust Fund.
Education & Training
Masters Degree in Criminal Justice, University of New Haven, CT, USA, 1980
Post Graduate Diploma in Legal Practice, Law Development Centre, Kampala, 1976
LLB (Honours), Makerere University, Kampala, Uganda, 1975
Professional Development:
Sensitization on Sexual Abuse and Harassment, Special Court for Sierra Leone, 2007
Course on Legislative Drafting, International Law Institute's African Centre for Legal Excellence, 2007
Casemap Training, Special Court for Sierra Leone, 2006
Human Rights Course, University of Pretoria, S. Africa, 2006
The Sale of Goods & International Transactions, 1995
Sustainable Development by IDLI, Certificate, 1992
Certifications:
Various Trainings on Gender, solving management issues
Legislative Drafting, Centre for Legal Excellence, Kampala, Uganda
Human Rights, Centre for Human Rights, University of Pretoria, S. Africa
International Commercial Law & Trade Transactions, IDLI, Kampala, Uganda
Sustainable Development in Natural Resources Utilisation, Rome, Italy
Professional Affiliations
Uganda Law Society
East African Law Society,
Uganda Women Lawyers
Transparency Uganda-Member Advisory Council
For kids (A civic voluntary group catering for street children)-2000-2004
Publications (To be supplied upon Request)
Conferences and Professional Development
16-19 July 2017 represented the Residual Special Court for Sierra Leone in Addis Ababa and made an Address to the Peace and Security Council of the African Union where issues relating to International law, International Humanitarian Law and International Human Rights were discussed together with the relevance of the work of the Special Court for Sierra Leone to the AU.
3-4 July 2017 attended Conference organised by African Legal Aid (AFLA) on Carrying Forward the Legacy of the Extraordinary African Chambers in the Habre Trial: An African Solution to An African Problem held in the Old Building of the AU, Addis Ababa and presented paper titled "Complementarity: Amnesties and Other Things."
18-20 June 2017 was one of the Resource Persons at the National Stakeholders' Review & Validation Workshop on the Draft Study Report & Amnesty Model Law Program organised by the Uganda Law Society held at Lake Victoria Serena Resort Hotel, Kigo, Uganda. I presented a paper titled "Amnesty Recommendations for Victim Centred, Evidence Based Approach for a Model Law in Uganda."
22-23 May 2017 participated in a Workshop on Victims and Witness Protection organised by REDRESS UK at Grand Imperial, Kampala, where we had a platform to discuss protection measures at all stages of the trial. I gave the Final Remarks on the way forward.
7-9 May 2017 participated in a Workshop on Prosecuting Sexual and Gender Based Crimes organised by Avocats Sans Frontières and ICTJ at the Imperial Beach Hotel, Entebbe. I presented a paper titled "Regional &Domestic Legal Regimes on Sexual & Gender Based Crimes: A Practical Perspective."
16-17 January 2017 attended a Workshop on Victims' Participation organised by REDRESS UK where we considered applicable International Instruments, victims' rights under international law. I led the group discussing Victims participation during trial.
11 November 2016 participated in IHL Panel of Discussion organized by the ICRC and held at the Metropole Hotel, Kampala under the theme: Ensuring Respect for International Humanitarian Law. I delivered a paper titled "Repression of IHL Violations: A Judicial Perspective."
12 October 2016 Participated in a Roundtable discussion to follow up on the implementation of the 2015 recommendations to address Sexual Gender Based Crimes at National level and its way forward in view of existing challenges in Uganda held at the Serena Hotel, Kampala Uganda.
23-26 February 2016 participated as one of the East African Judges in the Validation of the Commonwealth Bench Book on Gender and Sexual Based Violence against Women and also wrote an Article on Child Marriages.
Dec 2015-Jan 2016 participated in Preparing an Article titled "Complementarity in Practice & ICC Implementing Legislation: Lesson from Uganda." It is part of a book: The International Criminal Court and Africa-One Decade On (Intersentia Ltd, Cambridge 2016) by Evelyn A. Ankumah (ed.), (AFLA Publication).
11th August 2015- presented paper "Combating Sexual and Gender -Based Crimes: Strategic Action Against Impunity at National Level "Status of Uganda's National Action to Address Sexual and Gender Base Crimes at the National Level in Line with International Commitments including the Goma and Kampala Declarations" (Organised by the Swedish Embassy) held at Serena Hotel, Kampala 11th August 2015.
June 25-27 June 2014 participated as one of the Judges, Commonwealth Moot Court Competition on International Criminal Justice.
6-8 November 2013 attended a Conference on the Legacy in Nuremberg, where I presented paper titled "Experience &Expectations of The International Crimes Division of the High Court of Uganda."
15 July -2 August 2013 was one of the Resource Persons at a Training for State Attorneys and Investigators held at the Imperial Resort Hotel, Entebbe where I delivered a paper Titled "Criminal Justice Responses to Terrorism Adjudicating International Crimes Domestically: Challenges & Prospects."
December 2012 - Workshop for Prosecutors. I presented Paper titled "Adjudicating War Crimes in Uganda".
Since 2010 - Yearly Trainings in International Crimes - money laundering, Terrorism, Human Trafficking, Cybercrimes.
International Cooperation in Criminal Matters, 28-31 March 2011, Botanical Resort Hotel, Entebbe (presented paper "Uganda's International Crimes Division & The Prosecution of International Crimes")
Judicial Training: International Crime and Terrorism Training Workshop for Uganda's International Crimes Division, 22-25 March, 2011, Institute of Security Studies, Pretoria, South Africa;
Bridging The Impunity Gap in Kenya: Retreat organized by Human Rights Unit, UN Resident Coordinator's Office, 16-18 February 2011, Serena Hotel, Mombasa, Kenya. I presented paper "Complementarity: Lessons learnt from ICC situations in Africa-Uganda;"
ICTJ's specially organized training for Judges of the War Crimes Division of the High Court of Uganda, University of Leiden, The Hague 13-22 Oct 2010;
Practitioners' Conference on Victims & Witness Protection in Uganda,13-14 Sept. 2010, Speke Resort, Munyonyo (gave Key speech and presented paper Titled: "Witness Protection in Uganda: Speaking for Justice.")
ICC Review Conference, Speke Resort Munyonyo on 10 June 2010 (represented the War Crimes Division of Uganda).
Presided in Mock Trial organized by the Public Counsel, ICC, 9 June 2010, Speke Resort Munyonyo, Kampala, Uganda.
Side Event to the ICC Review Conference-Calling African Lawyers, 4 June 2010, Speke Resort Munyonyo, Kampala, Uganda. I presented paper Titled: "Challenges facing Women Lawyers in Africa."
African Legal Aid (AFLA)'s Seminar on Africa & The ICC, 28 May 2010, Imperial Resort Hotel, Kampala, Uganda. I presented paper Titled: "The War Crimes Division & Gender Mainstreaming".
Lawyers without Borders Seminar on Positive Complementarity, 26 May 2010, the Sheraton Hotel, Kampala, Uganda. I presented paper, Titled: "Complementarity & Positive Complementarity Jurisdiction: The War Crimes Division for Uganda"
ICC Outreach Sensitization for Members of the Uganda Law Society (ULS), 16 April 2010, gave Keynote Speech "Practising Counsel in International Tribunals & Courts"
UNODOC/Directorate of Public Prosecutions Conference on Tools and Skills of Combating and Terrorism, February 18 - 21, 2010, Imperial Royale Hotel, Kampala.
African Centre for Strategic Studies Conference, February 2-4, 2010, Sheraton Hotel, Kampala, Uganda.
AFLA's Conference on Breaking the Silence Organized in Commemoration of International Day for The Elimination of Violence against Women, November 24-25, 2009, Peace Palace, The Hague, The Netherlands. I presented paper Titled "Marginalized and Under-Treated Forms of Gender Violence: Issues of Gender Violence in Uganda."
Judgment Writing Seminar, East African Community, Lake Victoria Serena Kampala, Uganda, November 18-21,2009.
Conference on Victimological Approaches to International Crimes, Kigali, Rwanda, July 20-24, 2009.
Breast Cancer Initiative Conference, NGO in Kigali, Rwanda, July 10 - 14, 2009.
The Women's Initiatives for Gender Justice, Gender Initiative, NGO Affiliated to the ICC, Soroti Uganda, June 1-4, 2009.
International Humanitarian Law Seminar, International Cross and Red Crescent (ICRC), Protea Hotel, Kampala, Uganda, May 28, 2009.
Gender Justice Forum: Adopting a Holistic Approach to Gender Justice, March 6-7, 2009, Dakar, Senegal.
Conference on Pursuing Justice in an Ongoing Conflict Situation: Examining the Challenges, Wilton Park, UK, December 7-10, 2008, where I presented paper Titled "Justice or Peace: The Role of Domestic Courts."
Peace & Justice as Conflict Prevention & Peace Building Strategy Dialogue at the AU, paper presentation in Conference, Global Hotel, Addis Ababa, November 19-20, 2008.
Legislative Drafting Course, Centre for Legal Excellency, Uganda, April to May 2007.
Human Rights Training, Zimbabwe Lawyers for Human Rights under the theme: "Practical Ways of Combating Impunity for Torture through Legal and Medical Redress Mechanisms" held August 2 to 31, 2006, and September 2006 at Harare, Zimbabwe - Presented 2 papers: "A General Case Survey of Decisions & Judgments, On Torture Before The International Criminal Court For Rwanda"; and "The International Law on Torture and Inhuman Treatment as it Relates to Women".