Germany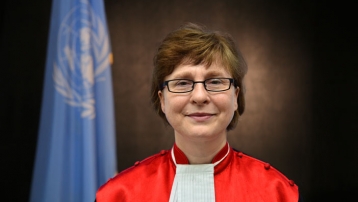 German lawyer with 16 years' experience in the ICTY. Principal legal advisor to judges on several trial and appeal cases. Extensive legal drafting experience on judgements and decisions as well as research experience in International Humanitarian Law and International Criminal Law. Broad managerial and administrative experience as team leader and senior legal officer in Chambers.
Besides these functions was appointed Focal Point for Women of the ICTY. Provided advise and support to female staff in cases of harassment and abuse of authority. Ensured gender equality by monitoring the staff selection process, reviewing job interviews, contract extensions and special post allowances. Empowered ICTY and ICTR female staff through a mentoring program. Promoted greater awareness of gender issues and gender sensitive working environment.
Dedicated, well-respected lawyer with strong communication and leadership skills and a passion for international and gender justice.
Languages
German: mother tongue
English: fluent
French: fluent
Employment Experience
Ministry of Finance, State of Baden-Wurttemberg, Germany
Senior Civil Servant | Mar. 2018 - today
Tax auditing; strategic planning and team management.
International Criminal Tribunal for the former Yugoslavia (ICTY)
Senior Legal Officer (PS) in Chambers (trial and appeal) | Feb. 2013 - Dec. 2017
Lead teams of up to 20 legal officers in multi-appellant and trial cases. Assigned tasks, managed, coordinated and reviewed the work of the legal teams. Provided advice to the judges during deliberations. Assisted the Head of Chambers with staffing matters by inter alia running recruitment processes and chairing interview panels. As Focal Point for Training in Chambers administered the training budget, planned and organised in-house training for Chambers staff. As member of the Reclassification Panel reclassified positions Tribunal-wide. Cooperated with the other sections of the Tribunal and liaised with the parties during the appeal and trial proceedings. Advised in the downsizing process in Chambers in preparation of the end of the Tribunal's mandate.
Legal Officer (P4) in Chambers (trial and appeal) | Nov. 2009 - Jan. 2013
Lead legal teams in multi-appellant and trial cases. Organised, planned and supervised the appeals and trial judgement drafting process. Reviewed judgement drafts and procedural decisions as well as memoranda on procedural and substantive legal issues and evidence analysis. Provided advice to the judges during deliberations. Set up systems of evidence collection in preparation of judgement drafting and reviewed summaries of testimony. Wrote legal and factual drafts in preparation of judgements, procedural decisions and research memoranda.
Legal Officer (P3) in Trial Chamber | Feb. 2005 - Oct. 2009
Associate Legal Officer (P2) in Trial Chamber | Sept. 2001 - Jan. 2005
Voluntary work as appointed Focal Point for Women | Jul. 2014- Dec. 2017
and Focal Point for Women Alternate | Oct. 2010 - Jun. 2014
Max Planck Institute for Foreign and International Criminal Law, Freiburg, Germany
Senior Research Fellow - Head of Section French Law | Dec. 2000 - Sept. 2001
University of Michigan Law School, Ann Arbor, United States
Visiting Researcher | Jun. - Nov. 1998
Ministry of Justice, State of Baden-Wurttemberg, Germany
Judicial Preparatory Service (Law Clerk at different Courts and the District Attorney's Office) | Apr. 1994 -Apr. 1996
Max Planck Institute for Foreign and International Criminal Law, Freiburg, Germany
Research Assistant in the Law of Medicine Department | Mar. 1994 - Mar. 1995
City Hospital Karlsruhe - Oncology Department, Germany
Volunteer Worker (state sponsored civil service program) | Aug. 1986 - Jul. 1987
Education
Second State Exam (Post Graduate) (with distinction), April 1996
Ministry of Justice, State of Baden-Wurttemberg, Germany
First State Exam (Master's Level Degree) (with distinction), January 1994
University of Freiburg Law School, Germany 1987-1994
European High School Exam, July 1986
European School, Karlsruhe, Germany 1974-1986
Lectures and Publications
Lecture on Mechanisms to improve Gender Equality and Gender Parity among High Level Staff in International Tribunals - Lessons Learned at the ICTY, Changing the Picture of International Justice, Conference organized by GQUAL, Oct. 2017, The Hague (Netherlands)
Lecture on The Institutional Gender Strategy Legacy of the ICTY, Legacy Conference of the ICTY, Jun. 2017, Sarajevo, (Bosnia)
Workshop to develop Guidelines between Civil Society Organizations and Judicial Mechanisms in the Prosecution of Conflict-Related Sexual Violence, International Nuremberg Principles Academy, Apr. 2017, Nuremberg (Germany)
Lecture on Sexual Violence as a Tool of War, Stop Violence against Women, Conference of the Focal Point for Women of the City of Freiburg, Dec. 2015, Freiburg (Germany)
Lecture on The ICTY - Challenges in Prosecuting Sexual Violence before International Courts, Conference of Women Lawyers Without Borders (Anwaltinnen ohne Grenzen eV) on Women, Peace and Security in the Former Yugoslavia, Nov. 2015, Freiburg (Germany)
Presentation on the Work of the ICTY Appeals Chamber for French Judges, Jun. 2015, The Hague (Netherlands)
Lecture on Rape as a War Crime - from a Court's Perspective (Vergewaltigung als Kriegsverbrechen aus Sicht der gerichtlichen Praxis), Conference of German Lawyers (Deutscher Anwaltstag), Jun. 2011, Strasbourg (France)
Report on ICTY Jurisprudence (Bericht Ober die Rechtsprechung des Jugoslawien¬Tribunals (ICTY) im Zeitraum Oktober 2010 - Juni 2011), published in Zeitschrift fur Internationale Strafrechtsdogmatik (ZIS), Oct 2011
Large-scale Criminal Incidents: A Judicial Challenge?, Training for Judges of the High Court of Uganda organized by the International Center for Transitional Justice, Oct. 2010, The Hague (Netherlands)
Summaries of two ICTY cases in The Oxford Companion to International Criminal Justice (Ed. A. Cassese), Oxford University Press, Jan. 2009
Training
Empowering UN System Gender Focal Points, Training on Gender Mainstreaming and Empowering Women in Post-conflict Areas 2014
Gender and Organisational Change, Training on International Labour Standards, Rights at Work, and Gender Equality 2014
Justice Rapid Response Investigation of Sexual and Gender-based Violence Workshop 2013
Justice Rapid Response Certification Workshop 2012
UN Management Development Program 2011
Prohibition of Discrimination, Harassment, and Abuse of Authority Training 2011
Supervisory Skills Workshop 2009
Collaborative Negotiation Skills Workshop 2005
Management Skills for Chambers Workshop 2005