Plavno Valley
Drawn by Witness Alun Roberts
Exhibit No P690
21 July 2008
The Prosecutor v. Ante Gotovina et al., IT-06-90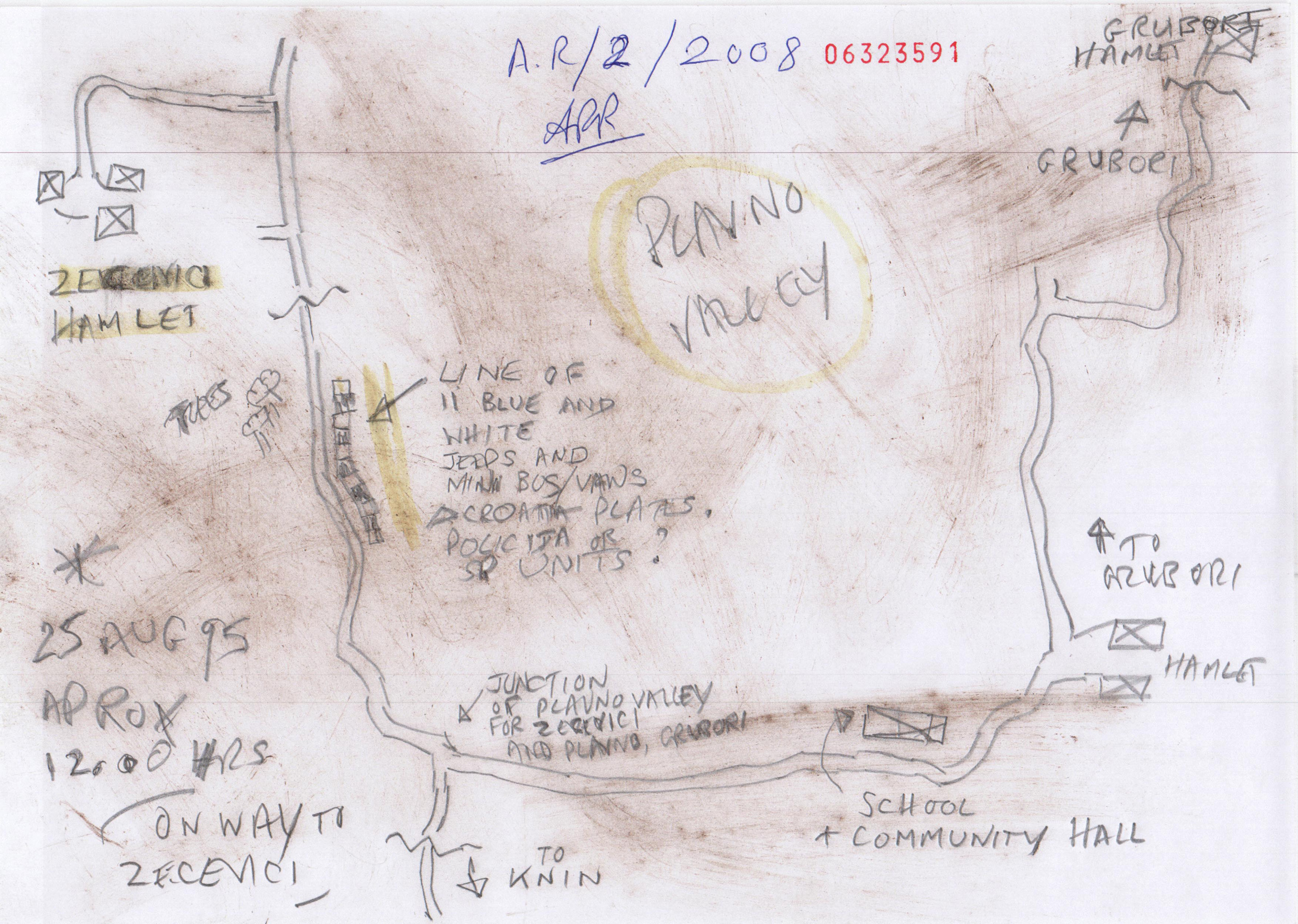 Prosecution witness Alun Roberts was the Press and Information Officer for UN Sector South HQ in Knin, Croatia, from September 1993 until October 1995. He testified in the Gotovina et al. case, which dealt with the crimes committed against Serb civilians during and after the operation "Storm" in Croatia in the summer of 1995. Roberts said that he drew this sketch on 25 August 1995 - the day the UN team was supposed to hold a meeting with the Croatian police and Serbian villagers in Zečevići, a village in the Plavno valley near Knin.
However, Croatian police did not come to the meeting. Roberts and other UN personnel cut the meeting with the Serbian villagers short, when they saw four separate plumes of smoke rising from the village of Grubori across the Plavno valley. They later discovered that, while the meeting was ongoing, five elderly Serb villagers were killed in Grubori and about half of the 25 houses in that village were burned down.
Roberts' sketch includes the villages of Zečevići and Grubori as well as the location where, while on the way to the Zečevići meeting, he spotted vehicles that he thought may belong to the Croatian Special Forces. The Prosecution used this sketch to try and prove that the Croatian Special Police Forces were in the Plavno valley at that time and that they were responsible for the crimes committed in Grubori.
In the Gotovina et al. judgment, the Trial Chamber found that members of the Lučko Anti-Terrorist Unit of the Croatian Special Police Forces were responsible for the killing of Serb villagers in Grubori and for the burning of their houses on 25 August 1995.
Ante Gotovina, General of the Croatian Army, and Mladen Markač, commander of the Croatian Special Police Forces, were convicted by the Trial Chamber for crimes committed during the operation "Storm" and sentenced to 24 and 18 years imprisonment, respectively. Subsequently, the Appeals Chamber quashed the verdicts of Gotovina and Markač, acquitting them of all charges.
More from the International Criminal
Tribunal for the former Yugoslavia