Neighbourhood of Prime Minister
Agathe Uwilingiyimana's residence
Drawn by Witness Silvestre Ntivuguruzwa
Exhibit No D554
16 July 2008
The Prosecutor v. Augustin Ndindiliyimana et al. (Military II), ICTR-00-56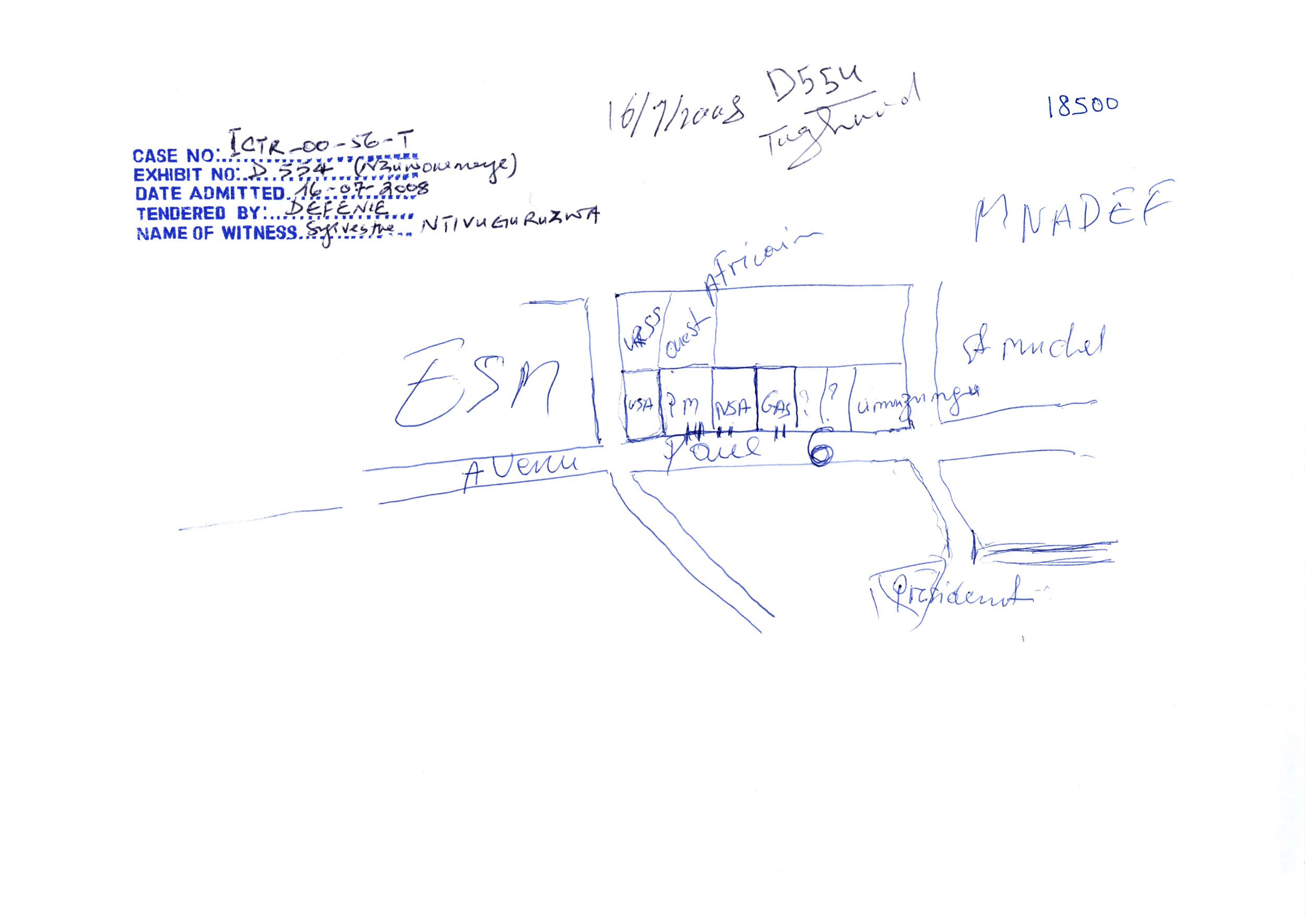 Silvestre Ntivuguruzwa was a Defence witness for François-Xavier Nzuwonemeye and a member of the Gendarmerie's Security Company, which was responsible for protecting high profile politicians in Rwanda. Ntivuguruzwa was assigned to protect Prime Minister Agathe Uwilingiyimana in her residence in Kigali, Rwanda, on 7 April 1994, the day she was killed.
During Ntivuguruzwa's testimony, when describing where the Prime Minister lived, Judge Taghrid Hikmet asked that the witness be given a piece of paper to draw a sketch of the neighbourhood. The witness drew and identified the military academy "Ecole Superieure Militaire" ("ESM"), Avenue Paul VI (identified as "Avenue Paul 6" on the sketch), a house belonging to Americans ("USA") and the Russian embassy behind it ("URSS"), a residence belonging to West Africans ("Ouest Africain") and the Prime Minister's residence ("PM") in front of that. To the right of the Prime Minister's residence he drew and identified other residences and the road leading to the house of Rwandan President Juvénal Habyarimana ("President"), who had been killed on the evening of 6 April 1994.
Nzuwonemeye's Defence relied on this and other evidence to support their argument that Nzuwonemeye was not responsible for Prime Minister Uwilingiyimana's murder.
This exhibit was used in the Ndindiliyimana et al. case, informally known as "Military II", which involved four accused, Augustin Bizimungu, François-Xavier Nzuwonemeye, Innocent Sagahutu and Augustin Ndindiliyimana, all of whom were high ranking officials in the Rwandan army or the Gendarmerie Nationale in 1994.
The accused were charged with the killings of Tutsi at Kansi Parish, St André College, Nyanza Hill, Musambira commune office and other sites, the rape of Tutsi women and girls, as well as the assassination of the Rwandan Prime Minister and Belgian soldiers attached to the UN Assistance Mission for Rwanda (UNAMIR), allegedly committed by members of the Rwandan army under the command responsibility of the accused.
Ndindiliyimana and Nzuwonemeye were acquitted of all counts of the indictment on appeal. Bizimungu was found guilty on appeal of genocide, extermination, murder and rape as crimes against humanity as well as murder and rape as serious violations of common Article 3 to the Geneva Conventions and sentenced to 30 years imprisonment. Sagahutu was found guilty of murder as a crime against humanity and murder as a serious violation of common Article 3 to the Geneva Conventions and was sentenced on appeal to 15 years imprisonment.
More from the International Criminal
Tribunal for Rwanda